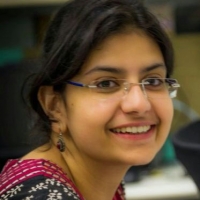 Project 8: Selective inhibition of tubulin polyglutamylation in the mitotic spindle
Pragya did her Masters in Biotechnology at the Amity University in India. After graduating, she worked on developing thermostable vaccines at Hilleman Labs and then in Prof. Ashok Venkitaraman's lab at the National Centre for Biological Sciences in Bangalore where she worked towards developing assays to validate target selection of compounds that can be potentially used to modulate certain cellular pathways.
The goal of this DivIDE sub-project, will be to identify a small molecule that is a selective drug precursor intended to target the polyglutamylases from the TTLL protein. This molecule can then be used as a chemical tool to study the functions of polyglutamylation in cell division. This work will be carried out under the supervision of Dr. Bert Klebl and co-supervision of Dr. Carsten Janke.