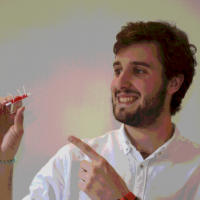 Project 11: Microfluidic device for medium exchange in a biological sample under highly controlled flow and temperature
Pablo studied Biomedical Engineering at the Tecnun, University of Navarra and since his last year he started to be interested in microfluidics and biotechnology. He moved to Lincoln, UK to study the Master in Biotechnology with the idea of getting more technical knowledge about this topic and how his engineering skills could fit in this field. Some time after starting his master thesis in Lincoln he joined Cherry Biotech at Rennes to finish it.
During his master thesis in Cherry Biotech, he was working at the R&D department team developing the Next Generation chips and working with the CherryTemp software. With the PhD project, he will focus on developing a microfluidic device that will allow the biologist to thermalize the samples and inject medium and drugs.
Apart from science and research he likes basketball coaching and playing it. He is a big fan of cinema and new technologies.