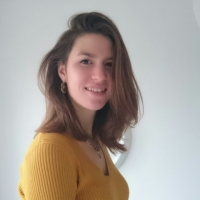 Project 6: Regulation of dynein function
Christel is a PhD student working in the Francis Crick institute in London.
She did her studies in France at the AgroParisTech engineering school where she majored in biotechnologies. She carried out her last year in an external Masters programme at the Center for Interdisciplinary Research in Paris. She has worked on projets as diverse as prion protein seeding, the effects of protein aggregation, genetic therapy, and chromosomal organization.
In the DivIDE project, she will be trying to understand the motor protein-dependant self-organization of the microtubule cytoskeleton, focusing on the function of dynein and its regulators under the supervision of Dr. Thomas Surrey.