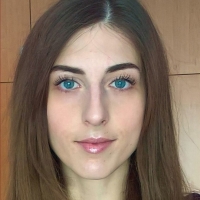 Project 4: Fission yeast as a model system to study tubulin modification and its effect on mitosis
Ana Loncar was born in Croatia. She attended the University of Zagreb, and was awarded both the BS (2012) and MS (2014) degrees in molecular biotechnology, with honors. Her early research used the budding yeast Saccharomyces cerevisiae to study the recombinogenicity of palindromic DNA sequences. After graduation, she worked in both industry and academia, on diverse projects ranging from pharmacological biohazard reporting to microbial diversity among different species of yeasts. She has joined the lab of Phong Tran at the Institut Curie in France to start her PhD in 2016, focusing on the mechanisms of spindle dynamics and chromosome segregation in the fission yeast Schizosaccharomyces pombe.
In her free time she enjoys reading, long-distance running and spending time with her friends and pet rabbit.